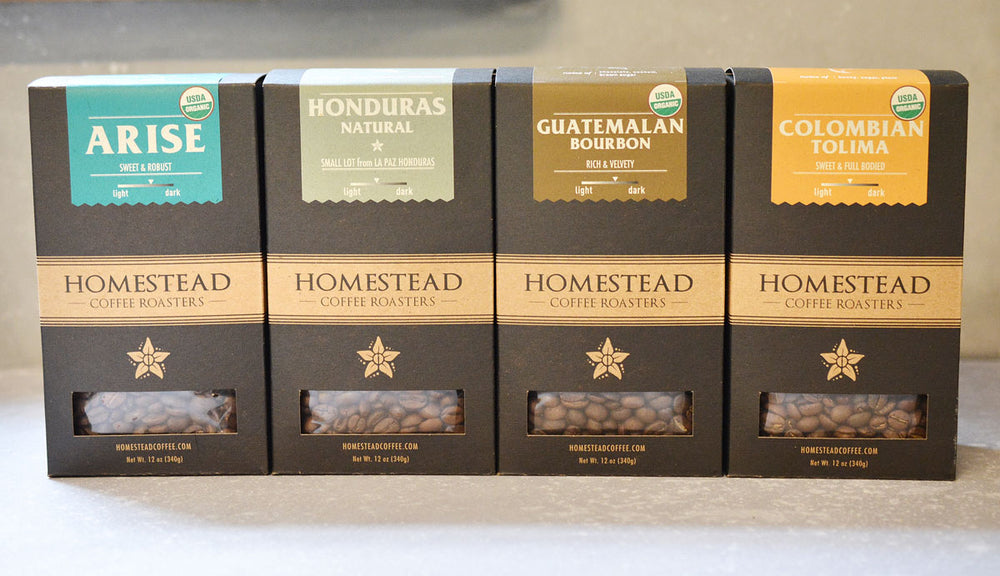 Our quest at Homestead is always to build a better business. We constantly strive to provide better coffee, greater customer support, more awesome prices for the value of our product, and stronger ecological sustainability.

We've closely tracked new developments in packaging for years, asked a lot of questions, and dug behind the scenes to look past the hype of whatever the latest and greatest material might be.

For the last year we've been pulling together resources for a truly worthy step forward in viable, sustainable packaging. It hasn't been easy. It's precisely not easy because creating a great barrier to protect the quality of coffee is a challenge, whether you're using biodegradable materials or not.
The new bag our coffee is packaged in is made from a thick, clear, biodegradable material. In addition, the one-way valve, a critical ingredient to packaging fresh coffee, is composed of a sugar-based material, that for the very first time, is also 100% biodegradable.

This bag snuggles nicely into a kraft box, made from sustainable, forest initiative, wood pulp and is recyclable / biodegradable. A key reason for the switch to boxes is actually due to shipping. We want to ship as much coffee in as small a number of shipping boxes as possible. Ultimately, it's you, the buyer that has to bear the burden of shipping, even when it's free. (It's built into the margins, even with Amazon!). So if we can get you what you want in a smaller volume, it can really help keep costs down.
Lastly, we utilized a company in the Midwest that's recycling coffee jute bag material, mixed with entirely consumer recycled paper products to make these gorgeous labels. The natural fibers in the material is from the coffee jute bags. Jute is a fiber derived from the Corchorus genus of plants.

We hope you like this new evolution. We've taken years of feedback on our product and worked to distill it into our new packaging: a larger bag to more easily grind your coffee into, perforated labels to more easily open the packaging, and far more detailed information on each label to let you know exactly what to expect. Oh, and you can SEE the roast now, so no more taking our word for it!

 -- Michael

P.S. The work is never done. We would still love your feedback so we can keep evolving. Thank you!